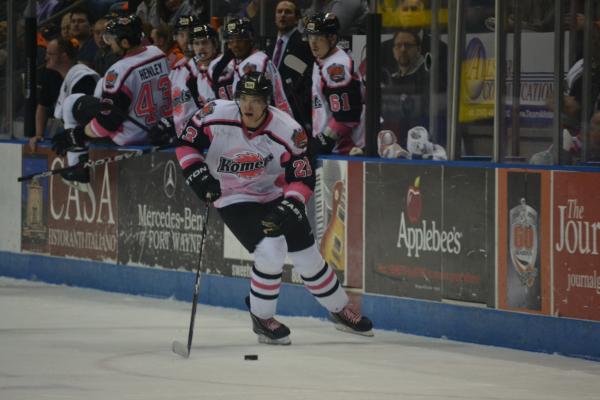 After going 11-2-1 in December, the Fort Wayne Komets have been 5-6-1 since, and General Manager David Franke would like to know why.
``I think the biggest job we have ahead of us is getting this team as a group to get back to the hard work and gritty effort and playing with an edge attitude that we had when the team was really doing well in November and December,'' Franke said. ``That's the biggest change that we need to make on the club. Whatever we have to do, we have to get them back to that level where they are committed to each other and pushing each other to play their hardest and best every night. That can go a long way in reestablishing our hockey club.

``We still need that consistency. It hasn't been there for the last month, and we have to change that up in order for us to be successful in the long haul.''
Franke said he'll meet with coach Al Sims and assistant Gary Graham tomorrow to discuss what changes need to be made, including whether the team needs to make a trade before the CHL deadline on Monday.
Franke also said he has no update on Leo Thomas who was given leave by the league to head home to Toronto to handle a family situation, and he expects defenseman Brent Henley to be suspended at least one game for instigating a fight during the final five minutes of Saturday's game at Arizona.
Defenseman Dustin Molle may also be two weeks out from returning to the lineup with strained groin muscles, Franke said.