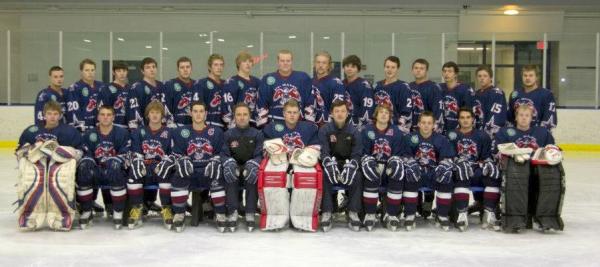 After not being able to qualify for their league playoffs last year, the Fort Wayne Federals improved enough this year to earn a spot in the Tier III Junior A Nationals.

After competing in the Great Lakes Junior Hockey League, the Federals qualified for the national tournament by placing second at the Lakes Cup in Kalkaska, Mich., two weeks ago. The team will compete in Rochester, Minn., from March 28 to possibly April 4.

The players range in age from 16 to 21. Fort Wayne-native players include Cory Wissman, Kelly Hay, Alexander Fasick, Derek Moss,Tyler Mason, Ian Harris, Nicholas Bentz, Cameron Wirick, Colin Fletcher, Chad Swartz, Nicholas Denice, Zachery Barone. Other local players include Cody Hess from Decatur, Brendan Lewis from Avilla and Ryan Matteson from Leo.

Hess was the team's leading scorer this season with 41 goals and 109 points in 40 games. Derek Moss was second with 35 goals and 75 points in 4 games. Lewis, Denice and Harris all scored more than 20 goals. Dustin Buchanan was the top goaltender with a 17-7-1 record, a 2.96 goals against average and .907 save percentage.

The Federals finished the regular season with a 34-10-1 record. The team is coached by Kevin Shupenia, and one of his assistant coaches is former Komet Konstantin Shafranov.

To help pay for their trip, the Federals will be selling raffle tickets at Friday's Komets game. They will also hold a fundraising game on Sunday when the Federals play the Komets Legends. The game starts at 2:40 p.m. at Lutheran Sportscenter, and admission costs $5.