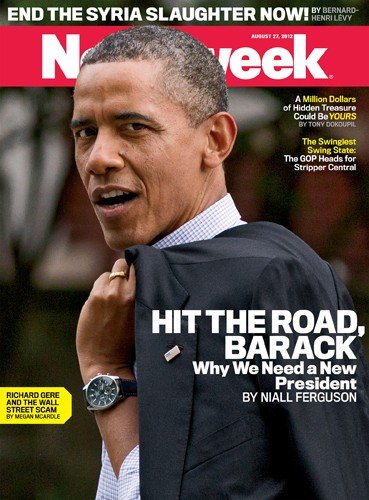 Is this the modern equivalent of "If LBJ has lost Walter Cronkite, he's lost the nation"? Granted, it's probably too strong to say Newsweek has defected -- they're just printed one story by a man who worked for the McCain campaign? I mean, come on, when was this guy ever gonna vote for Obama?
Still, the magazine did highlight on its cover an article that includes this:
Why does Paul Ryan scare the president so much? Because Obama has broken his promises, and it's clear that the GOP ticket's path to prosperity is our only hope.
This is the magazine that had the "We are all socialists now" cover and, more recently, borrowed from its own past George H.W. Bush issue to worry about Romney and the wimp factor. Hey, maybe they're just playing with us. Nah, that wouldn't be fair or civil, and we know how important such things are to them.
Looking desperately for a circulation boost, maybe?