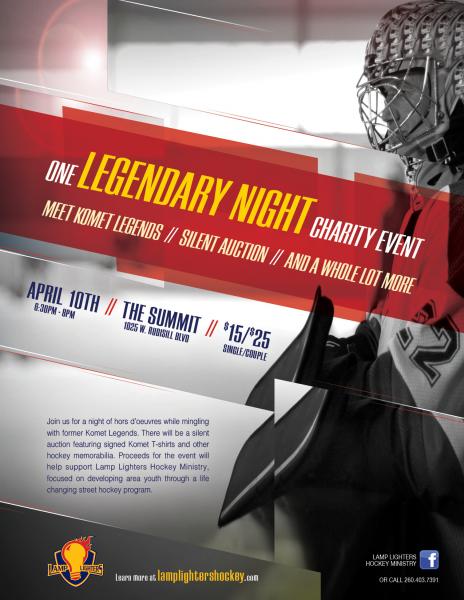 Join Lamp Lighters Hockey Ministry for their annual fundraiser: One Legendary Night.
The night includes mingling with Komets Legends Guy Dupuis, Eddie Long, Steve Fletcher, Nick Boucher, Doug Rigler, Ron Leef, P.C. Drouin and more. There will be a silent auction, a live auction and light refreshments. All proceeds go to helping Lamp Lighters Hockey Ministry bring life-changing hockey to Fort Wayne.
The event will be held next Thursday, April 10 from 6:30-8 p.m. at The Summit, 1025 West Rudisill Blvd. Tickets cost $15 for one and $25 for a pair. Tickets can be purchased or donations made at www.lamplightershockey.com
Lamp Lighters Hockey Ministry travels with their ``hockey mobile'' to locations in the Fort Wayne area to provide life-changing hockey. No skating, no experience necessary and all equipment is provide.
Here's a story about the program.