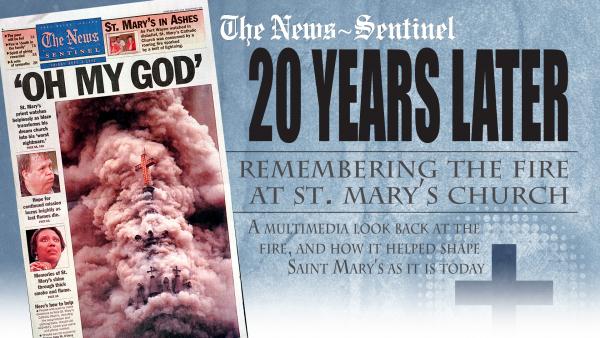 Was the Saint Mary's fire a mixed blessing?
The rebuilt St. Mary's Catholic Church is a better fit for the congregation's needs.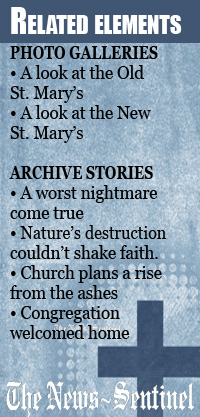 By Kevin Kilbane
kkilbane@news-sentinel.com
The photos spend most of their time in storage. But last week, a few longtime members of St. Mary's Catholic Church pulled them out and displayed them to remember the spectacular fire that destroyed their historic church 20 years ago on Sept. 2.
The parish doesn't plan any other special events or commemorations to mark the anniversary, however.
"We're done grieving," said Tony Henry, the parish's pastoral associate. "The focus is on the present and the future."

In a way, that's the way it's always been at St. Mary's Mary : Even when the 1993 fire seemingly brought the congregation to its knees, members wasted little time worrying about themselves. Their thoughts turned quickly to how they would continue to serving soup and providing other help to those in need.

A strong faith and that giving spirit still guide the congregation today.
VIDEOS IN THE SERIES
Former News-Sentinel photo director Keith Hitchens and former News-Sentinel photographer Steve Linsenmayer discuss what it was like on the scene the day of the fire.
Members of the Fort Wayne Fire
Department discuss the fire.

Church members talk about 'God's remodeling job'