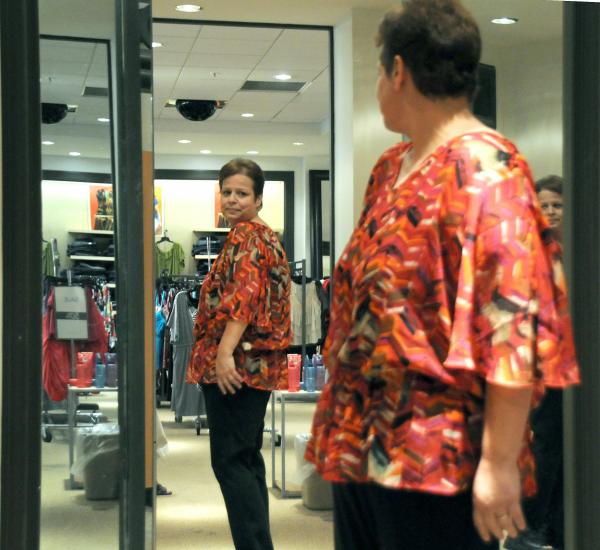 Connie Slagal shops at Lane Bryants at the Glenbrook Mall July 17, looking for something to wear to a funeral. Due to her weight loss most of the clothing she owns no longer fits. The sales assistant was trying to get her to try a smaller size but Slagal was reluctant to do so, despite the weight loss she likes her clothing to fit loosely.
Thursday, September 13, 2012 - 12:01 am
Connie Slagal is feeling lighter these days, literally.
Less than a year ago she labored to climb stairs. Walking around the block was out of the question, and she ordered most of her clothing online. But all that has changed since she underwent Roux-en-Y gastric bypass surgery Feb. 13 at Lutheran Hospital.
On the day of the surgery Slagal weighed 307 pounds. Now six months later her weight has dropped to 224 pounds. She has lost a total of 56 inches from her bust, waist, hips, upper arms and thighs. Her pants size has dropped from a 26 to an 18. Her initial weight loss goal was 220-200 pounds, but now she has almost reached that, she is targeting 150 pounds as a more realistic goal.
The Roux-en-Y (pronounced roo-en-why) gastric bypass can be done as open surgery or laparoscopically. It takes approximately two hours. During that time, a thumb-sized pouch is created by sealing off the majority of the stomach. About two feet of the upper small intestine is bypassed as food travels directly to the middle section of the small intestine. The result is that fewer nutrients are absorbed.
Items of clothing she hasn't been able to fit into in years are now too big. An instructor of nursing at Brown Mackie College, Slagal has twice had to reorder the scrubs she wears for teaching. Her energy level, which at first dragged after surgery, is back, and little things she would never do because of her weight are becoming everyday for her.
"When I can go to work and feel comfortable, and fit in all the chairs, and I can take the stairs and go to the classroom and realize I forgot something, run back to my office and get back to my classroom before the students I am so grateful," Slagal said.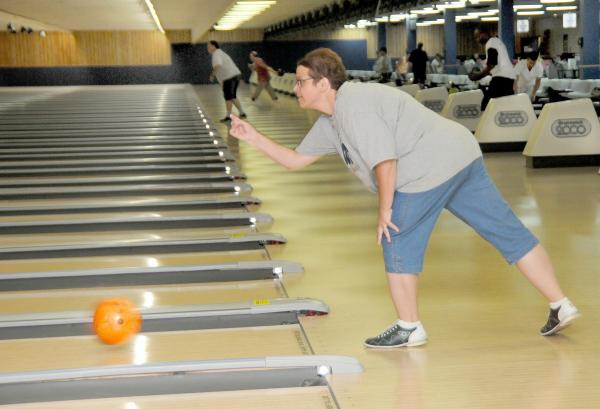 Connie Slagal bowls during a recent trip with family to the Pro Bowl West Bowling alley.
Before the surgery Slagal said going to a new restaurant used to mean wondering if she could fit in one of the chairs or if they would have a booth she could squeeze into. Now when she goes she eats very little but is more there to keep others company. Her family has had to adjust to this as well.
Slagal said she was always the organizer, the one who would plan where they were going to eat, or the food for meetings at work. She no longer takes on that role. But she has discovered what she will do is buy the food she is craving for other people and take pleasure in watching them eat it. One of the dietitians had suggested doing this as a coping mechanism.
"So now I still cook and buy things I would have bought, I just give them to other people. My mom has caught on so now when I am force-feeding them some junk food she will say, 'Oh that must have been what you would have eaten prior to surgery,'" Slagal said.
But despite all the benefits, the loss of high blood pressure, no longer being a Type 2 diabetic and feeling much better, she struggles with the image she sees when she looks in her mirror.
"When I look in the mirror I still see the person I used to be, and that bothers me, but I feel better, that's what keeps me going. Even now at 224 I don't see that I am not 367 anymore. " Slagal said.
Slagal wonders if she will ever feel like she has reached her weight destination, but thought that might be because she has been fighting her weight most of her life. The first few months post-op she said she really struggled with believing it was possible for her to lose the weight. She kept thinking maybe for some reason the surgery wouldn't work for her. Then she went through a period of missing the food she used to eat and it made her angry. She had been told this would happen before the surgery, but was surprised by her feelings. It took Slagal until June and a family trip to the Smokey Mountains to embrace the change and go shopping for new clothing.
"Going on vacation was kind of like cleaning the slate, and I feel like I came back a different person; since then I have felt good," Slagal said.
Slagal now easily walks four miles, four days a week and will soon be joining a gym to add some resistance training into her workouts. She has signed up do the Fort4Fitness four-mile walk Sept 29. Her husband, Ron Slagal, is now losing weight, too. There is no longer enough food left over from her cooking for him to overeat. He is also trying to get his cholesterol down so he has begun to make healthy choices. Her daughter has also been losing weight.
"It's had a positive effect on the whole house," Connie Slagal said. "It's kind of sad looking back to think what a negative impact I had on my family by having my weight issue."
At her six-month post-op checkup Slagal was disappointed she had not lost 100 pounds and was concerned because of some hair loss. Dr. Laverne Miller, of the Lutheran Health Network Bariatric Center, reassured her, the first year after the surgery that her body would be adjusting to her new nutrition levels and hair breaking off is not uncommon. Once her body adjusts, the hair will grow back.
Slagal is now able to hit the bowling lanes with her family, and on a recent Thursday they were at Pro Bowl West. Although she is still working on her aim, Slagal is thrilled she can now do something she hasn't been able to do in years.
"I frequently have more energy now than I know what to do with. Ron now asks me, 'Are we done? Can we sit down?' That is something I used to ask," Slagal said with a smile.