Tuesday, May 14, 2013 - 8:56 am
Editor's note: This is the third installment of a year-long project looking at the effects of a Roux-en-Y gastric bypass surgery on Fort Wayne resident Connie Slagal.
A little over a year and 108.2 pounds later, Connie Slagal has gone from pants size 32 to 12.
In February 2012 Slagal underwent Roux-en-Y gastric bypass. During the two-hour surgery the stomach is divided and a small pouch is created, which seals off the majority of the stomach. A section of the small intestine is bypassed, about a yard, and the remaining end is connected to the new stomach pouch. An added plus to the surgery is it eliminates the part of the stomach where a hormone is produced that creates hunger pangs. Many patients totally lose the feeling of hunger after the surgery.
Slagal's body mass index has dropped from 48.5, to 31.6, her original weight loss goal was 220, now it is 160. The thought of going to the mall to shop is no longer the nightmare it was. Instead of getting on her computer and ordering her plus-sized clothing and extra-wide shoes, she can walk into a department store and get what she needs off the rack. Shopping has become fun.
"I used to carry so much water in my feet, that I'd have to wear shoes three sizes bigger then my actual size, I have gone from a 10 triple wide down to an 8 1/2 triple wide," Slagal said.
As nice as it is to shop for clothing she sees far broader health and lifestyle repercussions from her weight loss. She no longer has high blood pressure or Type 2 diabetes; she can now expect to have a normal life expectancy. She has become more active: she uses the stairs at Brown Mackie College, where she is an instructor of nursing, and gets outside in nice weather to walk. At the grocery store Slagal said her husband, Ron, has a hard time keeping up. She leaves him at the end of the aisles with the cart while she runs up and down collecting items from the shelves.
On weekends she can go antiquing again. And she doesn't have to worry about fitting into a booth at a restaurant of a seat in a movie theater.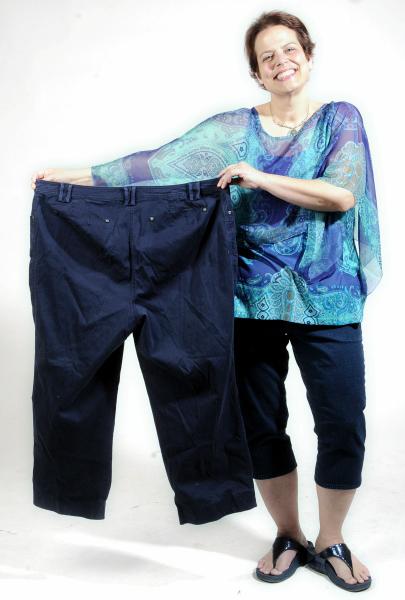 Connie Slagal holds up a pair of size 28 pants. Since Slagal's bariatric surgery in February 2012 she wears a size 12.
"Everything (the doctors) said was absolutely right and I am absolutely positive that for the majority of my adult life …maybe even part of my childhood, I wasn't absorbing nutrients. I was absorbing calories, but I wasn't absorbing nutrients," Slagal said.
Slagal believes her body was desperately seeking vitamins and minerals so it kept triggering her to eat. Since the surgery Slagal has 30 percent more hair than she had before her surgery. Right before puberty her nails got thin and brittle and her hair got really bad. She began losing her hair in her 20s.
"Having that surgery something happened that has reversed that," Slagal said.
Slagal said even though she now has malabsorption, because part of her small bowl in her stomach is bypassed, she absorbs more nutrients than she ever has. She will be taking high doses of vitamins for the rest of her life to make up for it.
I absolutely feel like I have a different body, but it feels like the body I should have had all along," Slagal said.
Slagal said with her weight loss has come renewed attention from men. That has brought on a feeling of extreme discomfort and makes her wonder if she didn't start down the path to obesity years ago because of the unwanted attention. She can't remember a particular incident, but it has made her do a lot of soul searching.
"It's been a long road, a really rough year. I am absolutely positive I used eating as a coping mechanism for everything, probably a lot of things I didn't realize I was eating for," Slagal said.
One of the biggest things she initially struggled with was as she lost weight people began to treat her differently.
"People started being really nice to me. I wasn't comfortable with that at all. Sometimes it would make me really angry because I would think to myself, 'A year ago you would not have been nice to me; you wouldn't have stopped to let me pull out, or held a door for me,'" Slagal said. "They are just little things, but we don't realize we only do them for certain people."
She can no longer use eating as a crutch, so she has found other ways to handle the stress. Slagal said she feels like she has come through on the other side now. She said there was really nothing else the doctors and staff at the Bariatric Center could have done to prepare her. Everything she was told was on target.
In March 2013 Slagal had her one-year post-surgery doctor's appointment at the Lutheran Hospital Bariatric Center. After praising Slagal on her weight loss Dr. Laverne Miller cautioned her to think about what she will do when she starts to gain weight. Slagal at first laughed at the idea, but Miller said eventually it could happen and patients need to have a plan on how to deal with it before it happens. People who don't have a plan can quickly find themselves back on the weight gain roller coaster. Miller reminded her she can always come back to the clinic for help from its nutritionists if she needs it.
Slagal said she had a minor temptation with pretzels, but worked through it. As of April 30, Slagal weighed 189 pounds and she was still on track for her goal, which originally was 220-200 pounds that she later brought down to 150 pounds.
"It is such a drastic change, such a huge tool. You just have to live through it, and its been different for everyone in my support group," Slagal said.