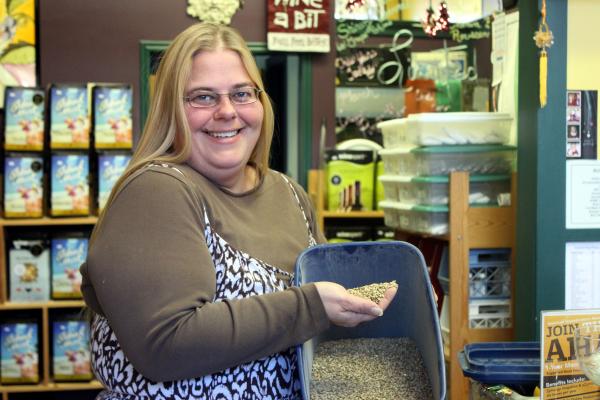 Francie Lengerich, owner of Brewers Art Supply, holds some of the store's most popular malt used for brewing beer. Lengerich often suggest new home brewers try using a starter kit before hand-picking raw materials to brew. After a few batches, most people get the hang of the brewing process and then will branch out to create a specific type of beer. (Photo by Jaclyn Goldsborough of The News-Sentinel)
Thursday, January 2, 2014 - 8:03 am
Related
More Information

Beer types
All beers are essentially a variation of two types of fermentation: ale or lager. Ale yeast ferments at warmer temperatures and are sometimes referred to as top fermented beers. Lagers, on the other hand, ferment at a cooler temperature and are commonly referred to as bottom-fermenting. So when you are deciding between an ale and a lager, remember the distinction between ales and lagers is in yeast choice. Both ales and lagers can range from light to dark, from high in alcohol to low, from bitter to sweet. The terms ale and lager are meaningless when it comes to color, strength, and most of the flavor spectrum.
Ale: Rapidly fermented brew with distinctive hops flavor and aroma
Lager: Golden-colored, effervescent brew that's been fermented slowly

Beer styles
A beer style is a designation given to a beer that carries with it a specific range of measurements for color, strength, and flavor.
Pilsner: Lager with a strong hops flavor
Bock: Bock beer is stronger than your typical lager and has a more robust malt character.
Porter: Porters are very dark, almost opaque. They consist of roasted malts or roasted barley, and are typically brewed with slow-fermenting yeast.
Stout: Heavily roasted flavor. Should have hints of coffee, chocolate, licorice and molasses with no apparent hops flavor.
Wheat beer: The flavor ranges greatly depending on wheat styles, but they're typically light in flavor, making them great summer beers.
India Pale Ale: A strong hoppy flavor, with a slightly bitter taste.
Francie Lengerich was 19 years old when she was hired at Brewers Art Supply in the Wells Street Corridor.
A college dropout moving back in with her parents, the underage Lengerich did not know a lot about beer. She was just thankful for a job.
Now, 20 years later, Lengerich is the owner of Brewers Art Supply, a master home brewer and a beacon of creativity and institutional knowledge for Fort Wayne area homebrewers.
Lengerich's beer evolution is relatable to many.
"Back then, of course, I drank regular domestic beer. As soon as I'd drink it, I would get an instant headache. I was like, 'What the heck?' But once I got involved with brewing and I tasted homebrew for the first time, I was able to drink a whole beer and I was just fine," she said.
Lengerich attributed her domestic beer dislike to a common chemical ingredient she is sensitive to, but as a self-taught brewer, she has come to understand the intricate process and importance of quality ingredients.
"Then I picked it apart and learned what went into it. I reversed engineered the process. I didn't take a class on chemistry, so at first I didn't get what they were saying, but what I found out was that to make a beer, you only really need four ingredients. After I learned the process, I began helping other people," she said.
It's all in the recipe
Making beer is a relatively simple process involving four ingredients: water, yeast, malt and hops. Lengerich helps the many people that walk in her door to learn it, no matter their skill level or chemistry background.
It begins with the ingredients. For new homebrewers, Lengerich recommends starting off with a home-brew equipment kit that costs about $80. The starter kit has all the basic hardware including two large plastic buckets, a bottling spigot, capping device, hose, cleaning materials, instructions and other smaller materials. One additional purchase would be a 20-quart stainless steel pot. The basic kit brews 48 to 52 bottles of beer and takes a few weeks from brew to bottle. The product will last up to a few months, but the more alcohol it contains, such as a barley wine, the longer it'll last.
"Usually, I start everyone out with two cans, one of malt and one of hops. Dump the two cans into your pot, boil it for an hour, when the hour is up pour it into the fermenter, add cold water, then put the lid on the fermenter, put the airlock on, let it sit until it reaches room temperature sprinkle the yeast on top and just let it ferment for a week," she said.
After a batch or two of "the two-can dump," Lengerich then encourages folks to get creative.
While there are only a few ingredients, that doesn't limit the options or possibilities. Lengerich said there are a lot of varieties of malts, hops and yeasts. She said even the type of water you use can affect the taste.
Brewers Arts Supply carries many of the varieties of malt, hops and yeast a homebrewer would want. They even import active yeast from Europe and have fresh hops which are only harvested once a year.
"Even though there are only four ingredients, there are a lot of variations. You can brew every day for the rest of your life and not brew the same recipe. The best part is that people are getting more creative and instead of saying, 'Oh, I want to brew a red ale,' people are saying, 'Oh, I want to brew a blueberry honey wheat with vanilla beer. Then I'm like, 'Heck yeah, a challenge! Bring it on!'" she said.
While there are only, really, two type of beer – lager, brewed at a colder temperature and bottom-fermented, and ale, brewed at a warmer temperature from the top-fermented– Lengerich said the options are endless.
"I've met people that say they hate beer. Then I tell them, 'You don't hate beer, you just haven't had the right beer,'" she said.
Lengerich said for most beer-makers, homebrewing is a labor of love, and her business has also been a labor of love.

Brewers Art Supply offers a variety of starter and ingredient kits for new home brewers. The kits include the ingredients, bottle caps, priming sugar, grain bags and instructions. (Photo by Jaclyn Goldsborough of The News-Sentinel)
Labor of love
Lengerich was able to make her dream come true thanks to the help of her family. When the business was for sale and the previous owner approached her about buying the company, the whole Lengerich family pitched in every nearly cent they owned to purchase the company.
Lengerich's father was one of her biggest supporters. When he passed away four years ago, she would walk into the old shop on Wells, overcome with sadness and missing him. She decided she needed a change and a fresh space, and that's when she moved down the road to 1425 Wells St.
She admits craft beer and homebrewing were not as popular over the years as they are today. There were some rough months, and even some rough years. But today, looking back on it, she said her passion and her business were just ahead of their time.
"I'm notoriously stubborn and I don't ever give up. So there were years that were stretched thin, but I just kept at it. But, it's all paying off now," she said.
Thankfully, she said, people started demanding better beer, and today, business is steady and she is constantly getting new customers.
"Those first few loyal guys that brewed beer were my top customers, and I wanted to make sure that when they took their ingredients home that they know exactly what to do. You are not going to keep that beer and hoard it to yourself. You're not going to sit on it. You're going to share it. You're going to be proud of it. And all of those beers that go out are a reflection on me. That's how I feel about it. I want to make sure your beer taste good," she said.
Customers keep flocking to Brewers Art Supply. Even homebrewing aficionado Brian Lewis often stops out to ask Lengerich questions or pick up supplies. Coining his homebrews as Bad Apple Brewery, Lewis has been brewing for almost five a years.
"I started with the ingredients mix, which is sort of like a cake-box mix for beer. Then I did a couple of batches of extract with the kit, and at that point you don't really need to know much about the science behind it, you just follow the instructions. After a couple times I was ready to put my research and knowledge to the test, and then I made the leap from the extract kits to all grain brewing," he said.
All grain brewing uses raw malted barley as the primary source of malt sugars in a brewing session, as opposed to the use of malt extracts. With this process, he really enjoyed the control and customization. After Lewis made the leap, he was hooked on the brewing process and the hobby in general.
His latest creation is Holy Smokes. After smoking the malt in cherrywood behind his West Central home, Lewis used Belgian yeast to make a hefeweizen beer, adding wheat into the mix for a smoky, refreshing aftertaste.
"I started with the minimal equipment, then I upgraded piece by piece, and now I have a full-blown outdoor brew shed," he said.
For Lewis, beer is a passion, which is why he doesn't stop at the beer. He also uses his marketing and design skills to create labels, caps, logos and more. He said this is all part of the beer-loving process, because, just like Lengerich, he brews beer not only for a hobby, but also to share with friends and family.
Now that winter is here, local brewers like Lewis are stocking up on supplies and ingredients and getting ready for the quintessential beer-making season.
Lengerich said winter is her busy season since most people spend more time at home then. She said people will make enough brew to last them through the summer and until next fall.
Lewis said he plans on doing a lot more experimental brewing this winter, too.
Both Lengerich and Lewis said one of the best parts about being a homebrewers is the passion and camaraderie that happens when you share your hobby.
"That's the beauty about this hobby, we all have something in common. We love beer!" she said.