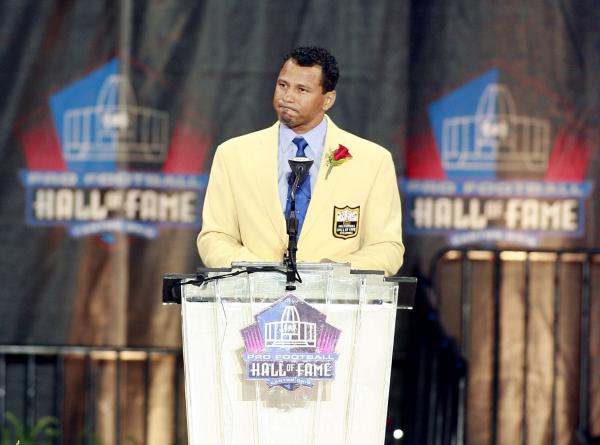 Fort Wayne native and former NFL player Rod Woodson was enshrined into the Pro Football Hall of Fame on Saturday in a ceremony at Fawcett Stadium in Canton, Ohio. Woodson joined Ralph Wilson, Randal McDaniel, the late Bob Hayes, the late Derrick Thomas and Bruce Smith in the Hall of Fame Class of 2009
Snider star earns his spot with all-time greats in Canton
Tuesday, June 25, 2013 - 8:38 am
Editor's Note: This is the fourth in a series of excepts from the book ``Fort Wayne Sports History.
Aug. 8, 2009
Woodson could do everything on a football field, and he often did.
A first-ballot Hall of Fame selection, Woodson, then 44, was inducted along with receiver Bob Hayes, offensive lineman Randall McDaniel, defensive lineman Bruce Smith, linebacker Derrick Thomas and owner Ralph Wilson.
``I love Fort Wayne, it was a great place to grow up,'' Woodson said during his induction speech. ``It kept me rooted in reality and taught me what was truly real for me and important for me as a man. I really want to thank Fort Wayne for accepting me and embracing me throughout my career, and for accepting my family in Fort Wayne for who we were as people.''
During his 17-year NFL career, the Snider graduate played for the Pittsburgh Steelers, San Francisco 49ers, Baltimore Ravens and Oakland Raiders as a cornerback, safety and kick returner. He's the only player in NFL history to be named to the Pro Bowl at three positions. In fact, he was an 11-time Pro Bowl selection. He played 10 of his 17 years with the Steelers.
He's also one of only four players to play in three Super Bowls with three different teams. In 1993, he was named the NFL's Defensive Player of the Year. He was named to the league's 75th anniversary team, and was ranked as the 30th-best player of all-time by Pro Football Weekly.
Among his classic achievements is holding NFL records for most career interceptions returned for touchdowns with 12, most career interception return yards with 1,482 and the third-highest career interceptions with 71.
``Choose to love rather than hate,'' Woodson said. ``Choose to create rather than destroy. Choose to persevere rather than quit. Choose to praise rather than gossip. Choose to heal rather than wound. Choose to pray rather than curse. Choose to live rather than die. Choose Jesus Christ over the world. God bless you.''
For more information on the book "Fort Wayne Sports History'' written by News-Sentinel sports reporter Blake Sebring visit www.amauth.com or www.blakesebring.com.