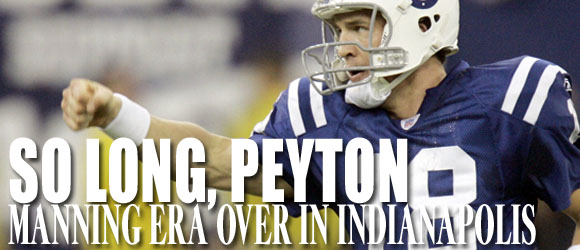 Indianapolis Colts quarterback Peyton Manning and team owner Jim Irsay have confirmed that Manning's 14-year career with the Colts is over. Read on for a look back at the future Hall-of-Famer's legacy and many accomplishments.

Photo slide show
Reggie Hayes takes a look at Peyton Manning's historic career in Indianapolis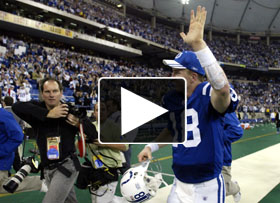 Video
A clip from Wednesday's news conference
Reggie Hayes' take on the news conference
Latest stories
Manning says hello to new team
Reggie Hayes: Elway wins if Peyton is Peyton
News-Sentinel commemorative sports page
Editorial: Nobody wanted the Manning Era to end this way
Peyton's nest trick: Bigger Ratings
Editorial: The unthinkable happened: Era of Manning is over
Manning's farewell a kick in the gut
Let the Manning sweepstakes begin
Colts confirm end of Manning Era
Manning's last day? Let the heartbreak begin
Reggie Hayes: Watching Manning a pure sports pleasure
Who's to blame in Manning departure?
Key moments
Any questions? Manning's 'perfect game' in first playoff victory should silence critics
Peyton's day was purely a pleasure to watch
More Manning columns
Who's the man? Two great NFL QBs face off