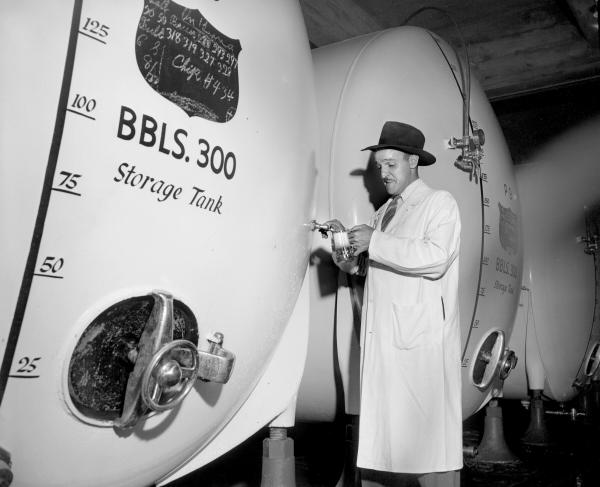 Thursday, December 26, 2013 - 12:01 am
Fort Wayne is known for its rich history, entrepreneurial spirit, impressive list of influential immigrants and heavily German heritage, so it may not surprise anyone that the city was once one of the Midwest's leading beer producers.
Some local breweries couldn't compete against big brewers' multimillion dollar advertising budgets, and others closed because better transportation and artificial refrigeration no longer made corner breweries necessary.
But as the businesses have come and gone and owners have lived and died, let us take a look at how the local beer industry has evolved over these last hundred years.
Hartman
In 1853, Herman Hartman opened the first commercial brewery recorded in Fort Wayne. Born in 1822, Hartman was an employee at the Alert Engine Co. until he opened a brewery at 128 E. Washington Blvd. According to The City Directory for Fort Wayne, Adolph and August Hartman were employed by the brewery.
Records list the brewery operational until 1869, when it was no longer recorded. Hartman died in 1896.
Summit City Brewery
Carl Phenning opened The Phenning Brewery on the east side of town near Harrison Street in 1853. After Phenning died, a man named George Meier took over. Then, in 1866, the building the brewery sat in was leased to John George Horning. Horning then bought, renamed and relocated the company. According to a business directory in 1868, the name was changed to Summit City Brewery. The brewery's production reached 2,500 barrels per year. Based upon city records at the time, the brewery remained open until at least 1874.
Stone Brewery and Malt House
Stone Brewery and Malt House was founded by Herman Nierman, an immigrant from Munster, Germany. The brewery was located on the southwest corner of Water and Harrison streets. The brewhouse was known as an "Ale and Lager Beer Brewery." After Nierman's death in 1873, his brother, Martin, began brewing at Stone until at least 1859. The company soon went out of business. Nierman's daughter, Frances Amelia, married Charles Centlivre.
Bloomingdale Brewery
Bloomingdale Brewery owners Francis Beck and Ulrich Stotz located their brewery on Wells and Huffman streets around 1868. The name Bloomingdale came from the name of the neighborhood just north of downtown. When Beck died, Stotz sold the brewery business to Lutz & Company around 1877. At that time, the maximum capacity was around 5,000 barrels annually. The brewery closed in 1880.
French / Centlivre / Old Crown
French Brewery was founded in 1862 by Charles Centlivre and his brother Frank, both immigrants from the Alsace region of France. Charles previously had a brewery in Louisville and in McGregor, Iowa. The original brewing facility on the west bank of the St. Joseph River was destroyed by fire July 16, 1859, but was quickly rebuilt. A malting house was built in 1868 and a bottling building in 1876. The French Brewery was torn down in 1884 and replaced by a new brewery plant that same summer. In 1895, the brewery was renamed Centlivre.
Charles Centlivre died in 1894. Later, a statue of him was made with his foot on a barrel of beer. Today, it stands atop Hall's Old Gas House Restaurant, 305 E. Superior St.
The brewery was located near what is now Spy Run and State Streets between the river and a feeder canal. It's reported that just before Prohibition it made 30,000 barrels annually. Once Prohibition hit, the business became Centlivre Ice and Cold Production Storage Company, which made a near beernamed "That's It." Following Prohibition, the company introduced beers such as Old Crown Ale, Alps Brau, Nickel Plate, Bohemia, Muenchener Export, Special Export, Old Reliable and Old German.
In 1950, the brewery tackled a million dollar renovation, with updated equipment, a more efficient production process, new brewing technology, much-expanded capacity and a large new production facility that dwarfed the original brewery. It was also around this time that the Old Crown label changed from the red, black and gold, gothic design it had been using since the 30s to a simpler, more modern style of red, white and gold for beer and green and silver for ale. The new design lasted until the brewery closed in 1973.
Plans to turn the old brewery into a historic site were dashed by vandalism during the 1970s, and other hopes to utilize the remaining buildings were never realized, with the last of the brewery demolished in 1989.
Berghoff / Hoff-Brau
Berghoff Brewery was founded and owned by the Berghoff family's four brothers: Herman, Henry, Hubert, and Gustav. All were immigrants from Dortmunder, Prussia. Herman was the first to settle in Fort Wayne.
The men bought the East End Bottling Works in 1882 and began brewing. Then, in 1887, the Herman Berghoff Brewing Company was incorporated and work was begun began on a new building. This original brewing building was destroyed by fire just as it opened in August 1888, but was it was immediately rebuilt at 1025 Grant St.
Brewing resumed by September, and although the fire destroyed equipment, it didn't touch the cellars where the beer was stored, so the Berghoffs were able to serve customers as usual with no interruption.
Henry Berghoff was elected mayor in 1901, which left him no time for the brewery, and Hubert Berghoff's health problems, beginning in 1908, meant he could no longer manage the brewery. That's when Gustav Berghoff stepped up. He took the presidency of the company in 1909 and changed to The Berghoff Brewing Association.
Prohibition began in Indiana in 1918 and Berghoff's annual production of 180,000 barrels of beer stopped dead. As the company tried to stay afloat, Gustav's sons were put in charge.
After the company survived Prohibition, the company was reorganized and, for the first time due to unknown circumstances, the brewery was sold to new owners. However, Gustav's sons were not ready to leave the beer business so in the mid-1930s, Hoff-Brau Brewing Corp. was opened by the Gustav's sons.
The new Hoff-Brau brewery building was a block away from the Berghoff brewery, and competition was high between the two separate companies. Hoff-Brau and Berghoff competed in beer sales for almost two decades until Hoff-Brau, facing the need to make major investments in the plant, decided to close and the Hoff-Brau Brewing Company brewing was taken over by the Berghoff Brewing Corporation in August 1951.
Berghoff Brewing Corporation operated another three years until Falstaff took over the Berghoff brewery along with the labels on April 12, 1954.
Falstaff Brewing Corporation
Falstaff Brewing's earliest form was credited to German immigrant John Adam Lemp, owner of Lemp Brewery in St. Louis in 1838.
The Lemp Brewery Company closed in 1921 and sold its brand to then-named Griesedieck Beverage Company. Griesedieck Beverage was renamed the Falstaff Corporation and survived Prohibition by selling near beer and soft drinks under the Falstaff name.
Fort Wayne operations started on April 12, 1954, when Falstaff bought the Berghoff Brewing Company. The corporation also brewed in St. Louis, New Orleans, Galveston, El Paso, Omaha, San Jose, San Antonio and San Francisco.
The Falstaff Corporation was bought by Paul Kalmanovitz's brewing conglomerate, General Brewing, in 1975. At that time it made 1.2 million barrels annually at the Fort Wayne plant. Headquarters was moved to Fort Wayne in 1977.
After the 1990 closing of the last Falstaff brewery in Fort Wayne, the brand name became a licensed property of Pabst, which continued to produce Falstaff Beer through other breweries. Having sold only 1468 barrels of the brand in 2004, Pabst discontinued production of the Falstaff label in May 2005.
Warbird Brewing Co.
Warbird Brewing Co. was first opened in October 2004 by Dave Holmes in a warehouse near Brookwood Airport Park, at Bluffton and Ferguson roads in south Fort Wayne. Holmes combined his love of brewing with his love of vintage planes. He gave brews names such as T-6 Light Red Ale (with the color of a red, the flavor of an ale and the body of a light); P-51 Pale Ale (a hoppy pale ale similar to Sierra Nevada or Pete's Wicked); B-25 American Brown Ale (a lightly hopped, cool-season beer) and P-47 Warbird Wheat (a classic unfiltered wheat with a hint of clove) after famous aircraft. The beer was sold in stores and restaurants in Indiana, Ohio, Michigan, Kansas, Georgia and Texas. Warbird employed about three people and closed in 2009 because of financial difficulty.