The David Petraeus scandal is becoming a three-ring circus, and it's beginning to look lik Jill Kelley is the real start attraction. There is this:
The FBI probe into the sex scandal that prompted CIA Director David Petraeus to resign has expanded to ensnare Gen. John R. Allen, the commander of U.S. and NATO troops in Afghanistan, the Pentagon announced early Tuesday.

According to a senior U.S. defense official, the FBI has uncovered between 20,000 and 30,000 pages of documents — most of them e-mails — that contain "potentially inappropriate" communication between Allen and Jill Kelley, the 37-year-old Tampa woman whose report of harassment by a person who turned out to be Petraeus's mistress ultimately led to Petraeus's downfall.
David Petraeus'stunning downfall took another salacious turn Monday as it was revealed the FBI agent who began investigating the disgraced spy chief allegedly sent shirtless photos of himself to the woman who sparked the probe.

The unnamed agent was a friend of

Jill Kelley

, the raven-haired knockout whom Petraeus biographer

Paula Broadwell

jealously suspected of having the hots for the former CIA director, The Wall Street Journal reported.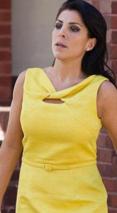 So, she is seen as a potential romantic rival by a woman having an affair with one of the most powerful men in Washington, she inspires one man to write thousands of "potentially inappropriate" emails and so arouses another man that he starts sending her shirtles photos of himself. Exactly what
is
the appeal of this raven-haired "knockout," a term we might have to start tre-evaluating? Not to sound too superficial, but it must be something not readily apparent from her photograph. Must be some powerful pheromones there. Probably knock you right off your feet if you get withoin 100 yards.
Whew. Wears me out.