Awww, shoot, Ange, Goober's gone:
George Lindsey, the Alabama-born actor and comedian best known for playing the good-natured if none-too-bright gas station attendant Goober on three television series, died on Sunday in Nashville. He was 83.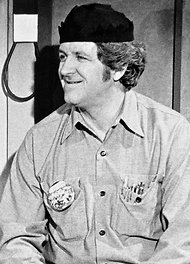 I was a big fan of "The Andy Griffith Show." Was? Hell, the thing's still on every day. And I can say it has actually helped me in my job. Dealing with the spouters of opinion every day, it's useful to be able to tell the difference between someone who is merely naive and somewho who is truly dimwitted -- it's very easy to confuse one for the other. Watch the show and learn -- it's the difference between Gomer Pyle and his cousin Goober.
I suppose I should have become outraged over the years like the "some critics" cited in the story who "considered Mr. Lindsey's prortrayal of a rural Southerner a demeaning caricature." Never could quite work up to it, though. For one thing, Lindsey's alleged Southern accent sounded a lot like the accents I heard growing up in rural Kentucky, so there was a charming and comfortable familiarity about him. For another, I think the show transcended its geographic setting. And I can't think of a series on television that was less mean-spirited than that one.